1. Contact your Yardi Account Manager (AM) and ask to have the PetScreening vendor add-on package loaded to your interface database

PetScreening doesn't automatically show in your database of vendor interfaces until ILS Guest Card PIv18, so someone at Yardi will need to add the PetScreening vendor package for you all. Your firm should have an Account Manager at Yardi who can do this for you.

2. Access PetScreening's interface in the ILS Guest Card

Once PetScreening is visible in your database, you can access PetScreening's interface in the ILS Guest Card settings: Interfaces > Configuration > Review Interface Vendors > ILS Guest Card > PetScreening

3. Manually create a new PetScreening user with access to all necessary properties named 'petscreening'. Make the username 'petscreening' In 'Privileges' tab; check Interface User.

4. Set Read/Write permissions - Ensure PetScreening security group has appropriate Read/Write permissions - in some cases the integration is default to Read Only which does not allow us to push back PetScreening notes into Yardi Voyager.

Interfaces: Web Service – Common Data – Read/Write
Interfaces: Web Service - ILS/Guest Card (Core and Other) – Read/Write
Interfaces: Web Service - Resident Data – Read/Write

5. Setup > Add PetScreening as an agency selected for select or bulk properties (see Chapter 3: Property Interface Configuration in Yardi's ILS/Guest Card Interface Setup Guide)

6. Send PetScreening your Yardi credentials. Here's an example of what we'll need.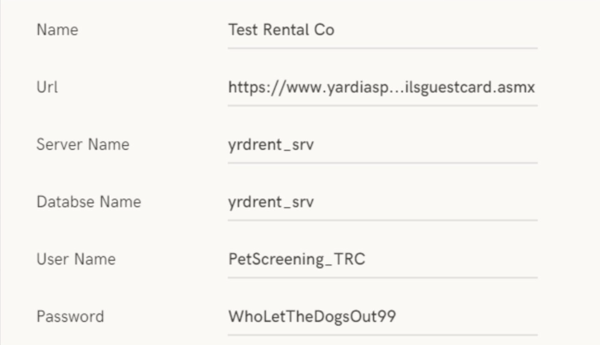 PetScreening is a Certified RealPage Exchange AppPartner.
Speed up your application process, standardize your pet policies and remain compliant with HUD/FHAct regulations with PetScreening's integration with RealPage OneSite. Save time and let PetScreening do the busy work, by screening your applicants' household pets and validating your accommodation requests, and syncing your pet/animal profiles to OneSite once they're complete.
Getting Started
Here's how OneSite users can get started with our no-charge PetScreening service and integration:

To subscribe your properties to PetScreening, please navigate to OneSite Central > Administration > RealPage Exchange > Marketplace.

Choose Resident Services in the 'Search by category of services' drop-down.
Click on Select next to PetScreening.
Check the properties you wish to subscribe.
Click Subscribe to Service.
Complete your contact information in the bottom left corner, then check the box 'I Accept' to accept the Terms of Use.
Your Subscription request will be submitted to PetScreening for approval.
PetScreening is a Rent Manager Integrated Partner. Find us in the Resident Services category of the Rent Manager Available Integrations.
Getting Started
Navigate to the Admin tab of Rent Manager to Available Integrations
Find the Resident Services area
Select PetScreening
Select Request Activation
Wait for approval
Cost
While PetScreening is a no-cost service, Rent Manager charges a $50 monthly integration fee per customer. PetScreening considers this charge to be a pass-through fee, without any markup to our customers. We require a credit card authorization form and will charge $50 at the beginning of each month (prorated the first month, if applicable.)